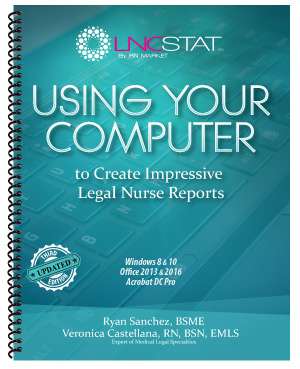 Step-By-Step Computer Training Designed Specifically for Legal Nurse Consultants
This fully illustrative, step-by-step book is a must-have if you are not confident in your computer or report writing skills. Learn everything you need to know about writing an impressive Legal Nurse report using Microsoft Word, Microsoft Excel and more. However, this is an exclusive book and you must be currently certified through the LNC STAT course to be eligible to order.
Two Versions Available:
Windows 7 and Office 2007-2010
Windows 8 & 10 and Office 2013 - 2016
Call 866-933-2562 to Order
Only Available with when you complete an LNC STAT certification course.