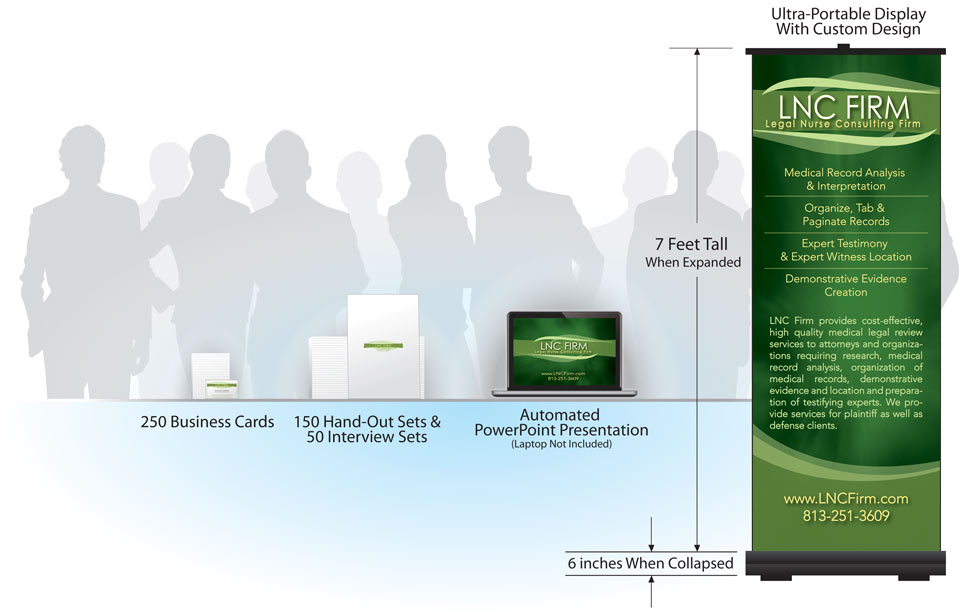 The Easy Way
To Get Started as a Conference Exhibitor
Another form of marketing that has proven to be very effective for Advanced Legal Nurse Consultants and Experts of Medical Legal Specialties (EMLS) is exhibiting at attorney conferences. While exhibiting at a conference, the roles are reversed with attorneys. Instead of pursuing them at their office to discuss what you have to offer, most conference attendees will visit the exhibitors' area of the conference and will want to know what you have to offer. This creates a very advantageous situation for you. However, the main downfall to exhibiting at attorney conferences is the up front cost. You will have to pay for your exhibitor space, your booth exhibit, and any advertising you plan on doing. This package helps you save money on your booth exhibit. This package is only available to those who have already purchased the Ultimate Marketing Tool Kit.
100% Effective
Everyone who has utilized this set has received at least one case!
What's Included
Conference Display
This durable display expands to stand nearly 7 feet tall and retracts into its metal case to become ultra portable.
Custom Display Design
An eye-catching and impressive design for your conference display.
Automated PowerPoint Presentation
A 10-paged PowerPoint presentation that will loop automatically so that it may be displayed on your conference table without supervision.
150 Hand-Out Sets
Hand these out to everyone who visits your booth. Includes 250 of your Intro page, Services page, large envelope and labels with your logo.
50 Interview Sets
Hand these out to those you speak with a while who can benefit from additional information.
250 Business Cards
Sit these on your table so that those passing by can grab them quickly.
Exhibiting Instructions and Tips
Before you exhibit, be sure to follow the steps in the instructions to ensure that you get the most out of the opportunity.
How Many Hand-Outs Do You Need?
You should have one hand-out for each conference attendee. Contact the conference representative for an estimate of the number of attendees they expect. Extra copies of the included hand-out sets can be purchased at a bulk rate.
$1205
+ Shipping & Handling
Call 866-933-2562 to order.

Only available to those who already have the Ultimate Marketing Tool Kit.