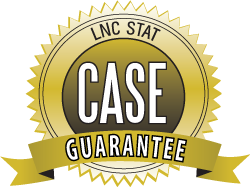 The First And Only
The LNC STAT Course is the Only Legal Nurse Consulting Course Effective Enough to Guarantee Your Success with a Case Guarantee
Using the Legal Nurse Case Guarantee
---
1
Order the ALNC or EMLS Certification
Includes the Exclusive Ultimate Marketing Tool Kit, Custom-Made for you to help you market and get the cases.
2
Complete Your Certification Course and Custom-Made Ultimate Marketing Tool Kit
Work One-on-One with highly qualified marketing experts and graphic designers to develop an original, eye-catching marketing package that will demand attention from potential clients.
Enjoy Unlimited Mentoring before, during or after you get a case. Have your questions answered by highly qualified practicing Legal Nurse Consultants.
Complete your homework and pass your test to achieve your certification at no additional cost.
3
Put Your Training and Tools to Work, and Go Get Some Cases
Follow the steps in the Instruction Manual included with the Ultimate Marketing Tool Kit
If you send out 50 mail-outs without obtaining a case, call for mentoring.
Keep a detailed log of all potential clients you attempt to contact as detailed in Chapter 25 of the included Legal Nurse Marketing Handbook.
Contact RN MARKET a minimum of 3 times for mentoring and every 50 mail-outs sent until you obtain a case.
4
If You Can't Get a Case, Get Additional Training at No Cost
If you follow all the steps and meet all the requirements but still fail to obtain a case, call RN MARKET.
Additional training will be assigned according to your weaknesses at no cost to you..
Ready to Get Started?
Click the button below to begin comparing Legal Nurse certifications so that you may decide which one is best for you.
Choose a Certification
More Guarantee Details
Click the button below to read the full terms and conditions for the Case Guarantee.
More Details