The Scary Truth Behind Many Legal Nurse Training Programs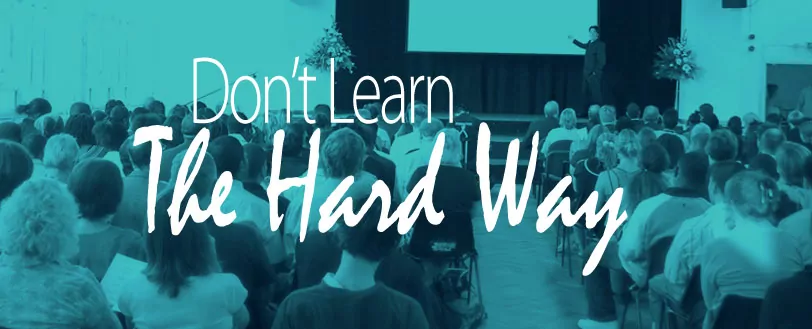 When comparing courses, many of the questions you may be asking are probably the wrong questions.
There are many important factors to consider when deciding which organization will provide you with training to become a Legal Nurse Consultant. When most Nurses are ready to begin the transition, they typically compare the benefits of each organization. Which one is the biggest? Which one claims to have started Legal Nurse Consulting? Which ones claims to be nationally accredited? Which ones have been around the longest? Which ones have the most graduates and members? Which ones are taught by attorneys or doctors? Which universities offer a program? How quickly can you get certified? How do you complete the training?

In reality, none of those questions matter. None of them will directly determine if you will be able to find Legal Nurse success. It doesn't matter what you want in a course. It matters what works when practicing as a Legal Nurse. When it comes to choosing a Legal Nurse Consulting program there is only one main thing to consider: Will you gain the skills and knowledge necessary for you to be able to begin securing cases and making money as a Legal Nurse Consultant? If the course you choose cannot offer you that, then you will have wasted valuable time and money on training that didn't give you what you need to earn a living as a Legal Nurse.

The scary truth is that most nurses who complete other Legal Nurse courses never even get their first case because they didn't get access to the right training and tools
The dirty secret that most Legal Nurse programs don't want you to know is that a large majority of their graduates never even get their first case. This isn't because the market is saturated, because there isn't a demand, or because their graduates didn't put forth an effort. It's because those Legal Nurses did not receive proper training that is current and effective. They did not receive the help they needed during and after the training process. They didn't get access to effective marketing tools and hands-on practice. Once they try to get their first case, they learn the hard way that they made the wrong choice.

It is not the Nurse's fault. There is a lot of initial information to sort through when comparing. There is intentional confusion and many misconceptions. The unfortunate part is that these programs can be rather expensive, and many of these Nurses are spending much of their savings, only to find out that it was a waste. In most cases, the Nurse's budget is limited and they only get one chance to become a Legal Nurse, only to be let down by their training program.
Access the most comprehensive and effective training in the Legal Nurse field.
Become Certified as an Advanced Legal Nurse Consultant (ALNC)

Learn More Now
While some organizations make fantastic promises or proclaim themselves above the rest, very few actually follow through when it comes time for their graduate to get cases. Just because a Legal Nurse program has been around for a very long time or has the most graduates, does not mean it's your best choice.

Legal Nurse Consulting is still an excellent career choice, you just have to learn the trade secrets that will allow you to make the transition effectively.
Choose the course that focuses on the number of its graduates who get cases, not the number of certifications it can sell. Choose the one that takes the personal approach and teaches you hands-on. Choose the course with unlimited mentoring so you can ask questions at any time without extra fees. Choose the course where the creator actually uses what she is teaching you, so you know it is current and effective. Compare the number of contact hours included in a course to see how much training and value you are getting. Make your choice easy and choose LNC STAT.

LNC STAT is the solution to these problems. It has the most comprehensive curriculum, unlimited mentoring, and a 95% success rate.
The first case is a big milestone for Legal Nurses since many cannot reach that point using other programs. An estimated 95% of LNC STAT's Advanced Legal Nurse Consultants (ALNCs) and Experts of Medical Legal Specialties (EMLSs) secure at their case after following the LNC STAT recommendations putting their training to work. After the first case, you just have to repeat the process for more cases. No other Legal Nurse Consulting program is as advanced and can come close to the LNC STAT success rate. Don't risk your money on outdated, inadequate, and ineffective training. If you want to find long-term and reliable income as a Legal Nurse, LNC STAT has everything you need.
How to Compare Courses:
The reality of Legal Nurse Consulting is that attorneys typically don't care about the Legal Nurse Certification that you have. They are hiring you because they need your medical expertise. Therefore, you are probably already qualified. So, your main goal in taking a Legal Nurse course is to ensure that you are prepared to successfully make the transition in this field.
Compare contact hours in the curriculum. LNC STAT starts at 120 contact hours.
Compare the success rate: the percentage of their graduates who get their first case. LNC STAT's success rate is 95%.
Look for Unlimited Mentoring without extra fees. Make sure that you will have access after your training is complete.
Who is teaching? LNC STAT is taught by Veronica Castellana, a currently practicing Legal Nurse who has been in your shoes.
Will you get hands-on case practice? LNC STAT includes real cases practice cases.
Are marketing tools included? LNC STAT includes highly effective marketing tools with every package.
Will you rushed through your training? LNC STAT allows you to learn at your own pace.
Is the pricing transparent? Some programs charge extensive fees later on that add up to much more than you intend to spend. LNC STAT packages are all inclusive with up-front pricing.
Access the most comprehensive and effective training in the Legal Nurse field.
Become Certified as an Advanced Legal Nurse Consultant (ALNC)

Learn More Now